Remedy Nasal Douche
is a REAL Nasal Irrigation equipment (They can be called as Nasal Rinse Kit / Nasal Irrigator / Nasal Wash Bottle) which using instead of Nasal Syringe that's traditional method. Remedy could be solve traditional method to the innovative design. Remedy Nasal douche can be used in various ages range of users since 3-years-old through adults. For Moisturization, Soothing, Daily nasal hygiene and essential to Runny Nose or Nasal Stuffiness, Allergy Rhinitis, Sinusitis and Asthma. Take Remedy as your buddy in daily life likes brushing your teeth or cleansing your face. Remedy also suitable for use during pregnancy. Daily rinse is safe. Suits for after sinus or nose surgery.
Remedy and Nasal Saline Solutions for Irrigation helps you clean traffic dusts, house dusts, occupation dusts, pollens, fumes which are kind of allergens also prevent Dryness and Hay fever. Keeping nasal passages clean. Remedy Nasal Douche maintaining your head in 100% upright position between Nasal Saline Irrigation. Remedy has a PATENTED-DESIGNED with 3 parts [Cap, Body and Nozzle] Nozzle of Remedy's part is custom-shaped round head to fits every nasal opening/nasal cavity. In the same part, Nozzle has valve for paused saline solution during saline nasal irrigation activity. Remedy Nasal Douche generate smooth flow by natural G-Force following actual Saline weight in direct variation. Portable for travel. The Advisory suggest prior spraying nasal corticosteroids or nasal drag spray from doctor's Prescription [Post Nasal Drip]. Preservative, Drug, BPA, Transition Metal Determination Free
Remedy contain of 1 piece of Nasal Douche Equipment, Wall mount and Instruction for use or Educational Document; Remedy has maximum volume up to 8 Oz or around 250 cc.; Remedy Nasal Douche has figured prevent the molds cause of easy to dry and good ventilation. So, Remedy Nasal Douche safe to use within family. Remedy's Material has firm to sterilizing through boiling water; the cytotoxicity test qualified.
Why is should be REMEDY?
NASAL SALINE IRRIGATION EQUIPMENT: 8 Oz. NO Premix Included, Gentle for 3-Years-Old Kids and Above(Adults); Helps Soothing, Adding Moisturization, Clean off City-Traffic Pollution Dusts, House Dusts, Fumes, Pollens, Allergens and Reducing Nasal Stuffiness.

ANTI-CHOCKING and STING: From PATENTED-Designed to irrigate in 100% UPRIGHT Position to reducing fluids leak flowing through throat part.

ROUNDED NOZZLES FITS ALL NASAL OPENING: Remedy's Nozzles helps user control pressure more natural and smoother to nasal passage. Then, gentle and safe even minimum ages of user 3-years-old kids are available.

PORTABLE for TRAVELLER: Remedy's Figure allow Air-Flow easily to Prevent humidity during unpack, it's REUSABLE, Cleaning through Boiling Water is allow.

BPA, PRESERVATIVE, DRUGS Free, CYTOTOXICITY QUALIFIED. Made in Thailand.
Product Anatomy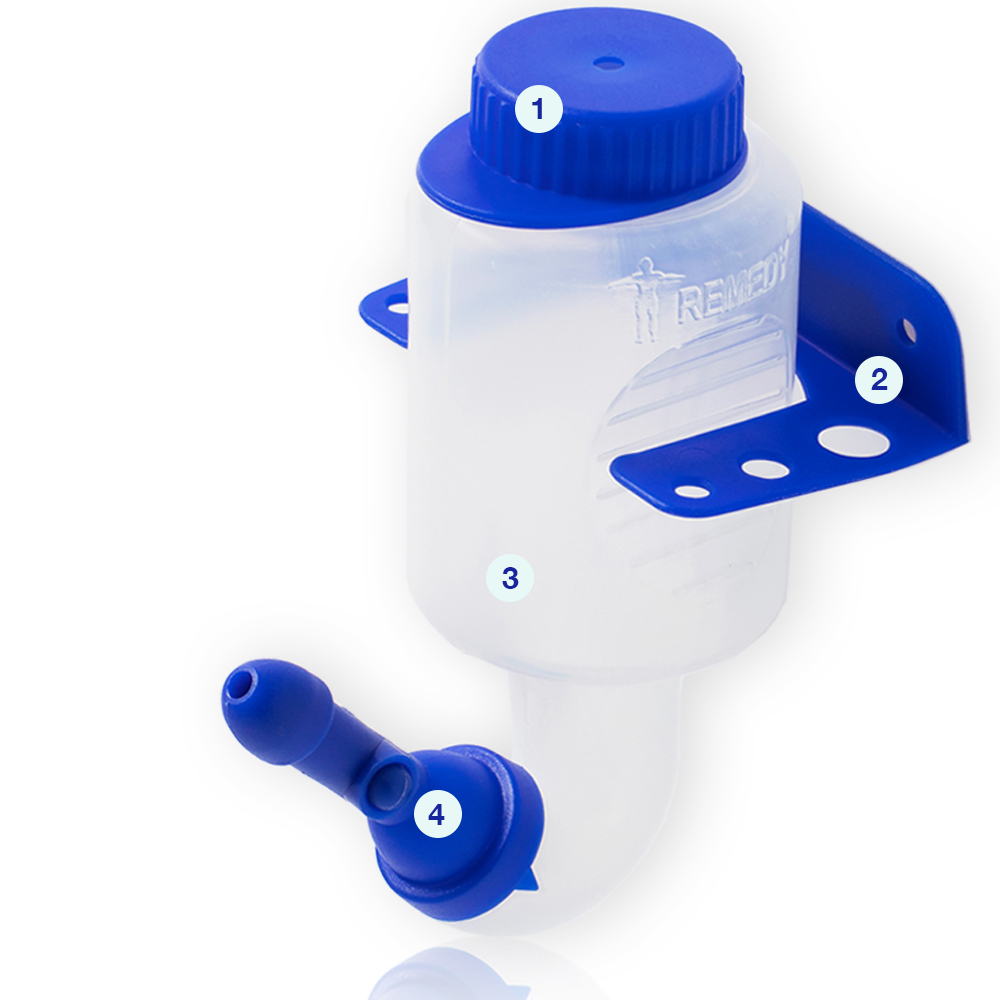 1) Cap, the saline solution controller
2) Wall-mount
3) Bottle body volume 250ml
4) Nozzle valve to Open-Close the saline solution